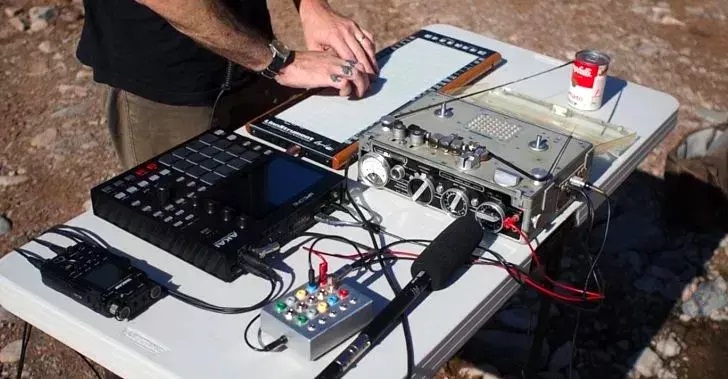 My first exposure to ambient music was in college.  I had a part-time work-study job at the theater department (lots of audio equipment), and they had hundreds of albums in a room that were set aside to be used as background music or effects during the shows.  One of my tasks was to keep this place in order.  Most were either sound effects, or Broadway related.  A couple of albums by Brian Eno caught my eye, and the cover gave little indication of what the audio was.  I asked the old director there about them, and he raved about how helpful the albums were in some productions.  So I threw one on, and was introduced to perhaps the first modern ambient album, Music For Airports.


It's still one of my favorites in the genre, with a very minimalist piano loop that is hypnotic and soothing.  There are a few variations of it on the album as well.  I then remembered reading in the old Musician magazine about how this was played continuously at one of the busiest airports in the world, to calm down stressed-out people trying to get through there.

Later, after college, I found myself at big stadium shows put on by the Grateful Dead, who were getting very popular at the time.  Every show sold out, no matter how large of a venue, for days on end.  I was interested in not only the state-of-the-art sound system and the wild scene around the shows, but also in the variety of material they played.  Folk, rock, originals & covers.  There were frequently group improvisations that appealed to my jazz sensibilities, but also a very unusual section in the middle of the second set.  After an extended drum solo, which frequently involved surround sound, sound effects, and just plain shaking the crowd with massive subwoofers, there was an interesting section where Jerry Garcia would just stand there, noodling around to provide a quiet space that allowed folks to recover & reset from the previous onslaught. 
A lot of people wrote this off as a chance to take a bathroom or beer break, but I always thought it was very brave for the band to do this.  It provided a unique improvised experience for each show, sometimes getting echoey and relaxing.  Other times it got kind of nasty & evil.  Occasionally it got very atonal and cluttered, with lots of screaming guitars and feedback.  Utterly unique for a rock audience in huge venues.  Other band members eventually filtered back onto stage, and it was off to the races for the big rave-up singalong at the end of the show.

Around this time a radio show called Music From The Hearts of Space began to go out to public radio stations, and this introduced me to the ambient music movement that was building at the time, under the radar.  Folks like Robert Rich, Steve Roach, Jonn Serrie, David Parsons and others were getting noticed for their atmospheric, instrumental ambient soundscapes that didn't have the typical, somewhat embarrassing New Age cliches that this frequently got classified under.  Instead, there was a certain edgy psychedelic quality that hinted at ancient memories, tribal rhythms, and something very deep and hypnotic.  It was really powerful stuff, and I was hooked.  Something that was really cool and certainly not in the mainstream.
It was hard to find, but thanks to the Backroads mail order catalog from California I was getting CD's that got played a lot, usually late at night before bedtime.  Falling asleep to these albums became part of the daily routine.

I continued to go to a lot of other big rock shows, and recording bands both in the studio as a full-time engineer and on the road, but also continued with listening to ambient music.  The next big development was finding out that the Philadelphia public radio station WXPN had put up a transmitter in my area, and there was a show of nothing but ambient & electronic spacemusic all night every Saturday night/Sunday morning.  It's called Star's End, and started in the mid-1970's.  It still continues to feature this type of music every week, which is quite a run.

Even better, the host of the show, Chuck van Zyl, had organized some volunteers to help put on occasional live concerts featuring these artists!  When I heard that Steve Roach was coming to Philadelphia to put on a show, I made sure to check it out.  I had no idea what to expect, and was surprised at how many people showed up.  Steve was into his tribal ethno-ambient phase, and put on quite an entertaining show.  I remember him coming in from the back of the venue, with a didgeridoo that was amplified by a wireless transmitter.  It was like having a shaman enter the room. 

I started going to as many of the shows as I could, wanting to support them in any way that I could.  I even wrote mini-reviews on internet mailing lists dedicated to ambient music.  I've seen Steve play at least a half-dozen times, and he always has something new and interesting going on: miking up a bowl of water and looping drops of water to start a show, bringing big video screens that had interesting abstract images, looping percussion elements, and of course lots of synthesizers.  Now he is more into the modular sequencer thing, which is pretty wild.  He's an interesting fellow, living out in the desert.

Another artist that really stood out is Robert Rich.  He even did a couple albums with Steve Roach, and his solo albums had a very exotic, ethereal feel that was very transporting.  Seeing him live was a revelation, as I found out that one of his signature sounds of a distant, almost angelic voice was not a synthesizer, but actually a sort of pedal steel with a lot of processing.  It made for something to look at, besides somebody poring over keyboards and a mixer.  Even better, he had these unique flutes built out of PVC pipes.  He made them himself, I found out later.  He had them labeled for what key they were in.  Again, it made for a fascinating, deep experience live.

He also did something I had never heard of before.  He sometimes has put on Sleep Concerts, where he plays all night while a small crowd sleeps on the floor.  The concept is that the environment and the music influences your sleep and dreams.  And what a unique experience!  The stamina to play all night is pretty amazing, too.


Some of the other stand out shows would include a rare performance by the Oklahoma duo Coyote Oldman, who layered Native American flutes with Lexicon reverb units to the point where it sounds like a synthesizer.  Yet it had an obvious human component that cut through the processing and made it very personal and organic.

And then there was Jeff Pearce, a really innovative electric guitarist that created these heavenly compositions that were made in part by looping and layering guitars with synth pickups using a butter knife.  The idea was that by rubbing the knife with the dull side of the blade against the string, one would not cut the string but get it vibrating without any real attack.  It reminded me of David Gilmour's technique from the late 1960's/early 1970's where he would rub a glass slide on the neck of a guitar to get the strings vibrating without any real attack.  Jeff also used the butter knife to cut all of the strings at the very end of the show, which was shocking and unexpected.  He also was one of the few acts that would stop after every song and talk with the audience.  Sometimes it was a story about how a song came about, or just a quick joke, but it was a change from what others did.

There were lots of other shows, more than I can possibly remember: Ian Boddy, Radio Massacre International (all from the U.K.), John Serrie, and Chuck van Zyl himself.  Chuck's music involved lots of sequencing, maybe influenced more by the Berlin school of electronic music.  He has put quite a few albums out over the years, too.  Good stuff.

I wasn't able to keep going to the shows, because I started having trouble with my hearing.  There's a genetic disorder called otosclerosis that runs in my family tree, and it essentially causes an arthritis-like growth on one of the bones in the inner ear.  It doesn't affect everybody in the family, but I started getting signs of it.  Suddenly I couldn't hear properly, and everything sounded like it was underwater.  Listening to music was impossible. I was devastated; I had just finished my first solo album after working on it night & day for almost a year, and was trying to put together a group to tour behind it.  That went on hold, and I had to have a surgical procedure to correct my hearing.  It's called a stapedectomy, and the doctor I saw claimed he had a 93% success rate with it.  They basically replace the gunked-up bone (which is the smallest in the body, almost invisible) with an artificial one.

After the procedure, I was confused because while the underwater sensation had been alleviated, it was replaced with a horrible, loud ringing in my left ear that was simply unbearable.  It was like a smoke alarm going off next to my ear 24 hours a day.  If I tried to talk on a telephone, the other person sounded like an alien.  If I heard a musical note, I couldn't tell which of numerous notes it was that I heard.  I couldn't sleep at all, couldn't listen to music, and was told by the doctor that unfortunately I was one of the 7% that it didn't work for.  Too bad.  Next patient.
Redoing the procedure probably wouldn't make it any better, and could make it even worse.  Adding to the pain was finding out that the surgeon was using outdated techniques, like not using a laser.  He also used a stainless steel implant for the bone he took out, which means any strong magnetic field like a CAT/CT scan would literally rip the artificial bone right out of my skull.  This could have been avoided by using more modern materials.  And it was done in a hospital with a relatively bad track record.
I was a mess, and I went from one ENT to another to another to another, trying to find somebody who could help me.  My marriage basically fell apart around this time, mostly because I was a miserable person that nobody wanted to be around.  It was the only time in my life I seriously contemplated just ending it all.  I was in really, really bad shape.  Cut off from the rest of the world, inside a bubble with my smoke alarm going off next to my head constantly.  Struggling for anything, and desperate, I even tried to get in contact with Pete Townshend to see what had worked for him and his tinnitus.  Everything that gave me real joy and purpose in my life besides just paying the bills had been taken away from me, probably for good.
Eventually, I was referred to the head of otolaryngology at Johns Hopkins in Baltimore, Dr. John Niparko, and that's where it started to turn around.  The doctor had been having success during the early days of restoring hearing with cochlear implants and was one of the national experts on conditions like mine.  And he was amazing.  He was willing to at least try some experimental drugs that were still being tested.  Finally, at least somebody was willing to try something!  It probably saved my life, and I can't thank the late Dr. Niparko enough.  He turned around a lot of lives, including mine.  One of the greatest humans I've ever met.
The drugs had some serious side effects, and caused some personality changes, but at least got me out of the funk that I was in.  In addition to physically helping with the damage, they also bought time for my brain to rewire itself slowly over years and adjust to what had happened.  Most of my hearing was shot in the involved ear, except for a narrow band of midrange.  My theory is that the brain basically kept turning up the volume, to the point where background noises get turned up and become excruciating.
For a few years, all I could listen to was ambient music.  The more minimalist, the better.  Brian Eno's Neroli came out, and I used to fall asleep to it every night for probably a year.  David Parsons' Yatra was another one.
Also around this time a friend of mine that had been in a band I was in years ago called me.  He had a huge show playing the York Fairgrounds, as a solo singer/guitarist, and really needed me to help him out on guitar.  I wasn't sure that I could do it, but he said if I had problems I could just stop and he would understand.  It was tricky, and really hurt most of the show, but I got through it, and started playing a little acoustic guitar.  This eventually led to us playing out as a duo and keeping me busy for a few years, which was the best thing I could have done.  I'm forever grateful to my buddy Greg Naylor for helping me out during a tough time.  We had a lot of fun learning songs, going out and seeing what happened.

In addition, I kept busy with another band that I was in, sparkOmatic, that my friend Paul Kruis organized.  It was an electric band, but it wasn't really loud and over the years we also learned a bunch of material: lots of New Orleans, funk, jam band, and really eclectic stuff.  The personnel frequently changed, depending on who was available, so I got to know most of the area musicians well. 

On top of that, I was also doing some very cool lighting for a few select bands; I had one of the first small LED setups and could synchronize them with moving lights better than anybody else in the area at the time.  I was getting calls to do lighting all over the Northeast US for a while.  I was out every weekend playing or helping other bands.  And had a day job.  I was working so much at one point I was getting a little physically worn down, but got a lot accomplished.
I eventually weaned myself off of the experimental drugs, which took a while, and wasn't easy.  Greg & I played a ton of shows throughout south central PA for many years, and eventually started cutting back.  The bars were frequently full of cigarette smoke then, which probably caused me to become asthmatic.  There were some drunks that caused a lot of trouble, and we were getting burned out playing the same stuff to the same folks every weekend after a while.  Four hour shows also were physically demanding, especially when you have to haul the PA in & out.
After a few years went by, I started recording my own original instrumental material, and then worked more seriously on getting it out and noticed.  Having folks all around the world messaging me about how they liked it was really cool, and inspired me to work even harder at it.  One of the most pleasant surprises was having the ambient musician George Wallace open up for me at my first solo show.  I found out he had been in the field for a while, and had even played at the Star's End Gatherings in Philly.  It was during the time I couldn't go out, though.

The rock/ambient hybrid of that first solo show I did led to more solo ambient work, and then a parallel project called the Joe Olnick Band that has been going on since.  I like having two different tracks that I can use to create original work, and going back & forth between the two genres keeps things interesting as time goes on.  A lot of my biggest influences have done similar sorts of jumping around musically, including Brian Eno, Nels Cline, and to some extent Miles Davis.  I discovered an ambient track Miles wrote when Duke Ellington passed away, and found out later than Eno also thought it was one of the greatest tracks ever.  It was way ahead of its time.


So when I started working on a recent ambient project, I got in touch with Robert Rich to master the album.  He's done a lot of mastering work not only on his material but others over the years, and they always had a very hi-fi quality that was very pleasing.  His monitoring system is one of the most expensive in the world.  Sure enough, when I heard what he came up with for my album I was very impressed.  It wasn't a total transformation, but he gave it a sweet, wide, deep sound that I could never get on my own.  No matter how hard I tried.  It was great to chat with him, too.
Amazing how life goes full circle some times.  I was listening to a recent bonus track from Brian Eno's Neroli album, and got a kick out of how folks commented that it was the only thing that helped their tinnitus.  In addition to being a good artistic work.  The healing power of music.  And the journey still continues.